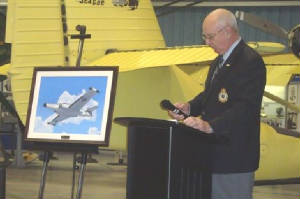 Lloyd at the podium
Lloyd Graham starts the affair by reminding us of the discovery of 18759 at the museum ten years ago, the accumulation of a log of flights made while it served in 416 squadron, and Joe Gulyes' generous commissioning of a painting of 18759 to be done by Mr Alan Botting.
After Joe's death in 2008, in response to a "what should I do with it?" from Alan, Lloyd suggested it be donated to the Reynolds Museum, which prompted this reunion.
Mr Justin Cuffe, the Reynolds Museum Curator, accepted the painting, which will be dedicated "In Memory of Joe Gulyes and in Honour of 416 Sqn". Both the museum and the 416 survivors are indebted to Mr. Botting for his generosity.
Standing: Gary, Ed, Alan Botting, Justin Cuffe, Pat, Andy, Bob, Dan, Arn
Kneeling: Trom, Ray, Lloyd, Denis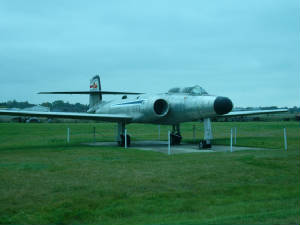 CF18759, in her Wetaskiwin Retirement Home
After the presentation, and a tour of the exhibits - one of which was a Hall of Fame entry for Ron West - we went out into a drizzly day for a look at the hero of the occasion: CF-100 Mk. V 18759, looking lonely and abandoned, like a warrior with no more wars to fight.
Some old friends come to visit ...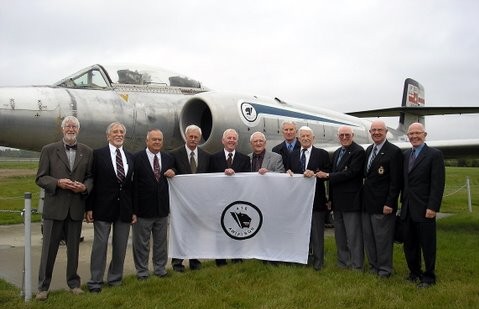 Maybe today she doesn't feel quite so lonely!
Bob, Ray, Gary, Ed, Denis, Trom, Andy, Dan, Pat, Lloyd, Arn