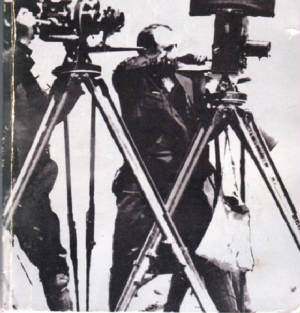 I doubt that the camera Ron used at that long ago party was quite this antiquated, but he made some "pieces of time" every bit as memorable for his fellow Lynxes as Birth of a Nation or The Gold Rush!
His 8mm silent gems (you'll have to add your own subtitles!) were faithfully restored by a grandson, and have been placed on YouTube as a wonderful time capsule.
Before you go to the link below, here's a roll call, in Ron's (slightly paraphrased) own words, of the folks at that Christmas party:
The guy in the plaid shirt decorating the tree is self ..Ron Egli ( Nav )
Next as the camera goes right to left the order of appearance is:
Girl (name unknown ) possibly Bill Morris's girlfriend, next (I'm almost certain) is Bill "Peachy" Morris (Pilot), then Denis Rogers (Nav), then Brenda Phinney (wife of Don Phinney), then Jim Barker (Pilot) RIP, then Robbie Robinson (Pilot), then Don Phinney (Nav), then Leslie Egli (Ron's wife), then Ron Ehrne (pilot) RIP.
Last lady in the film is Brenda Phinney, who has moved from her previous shot.