A proud young pilot ...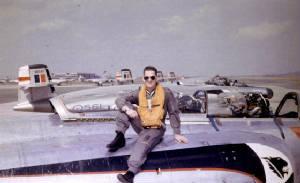 Claude on the 416 flight line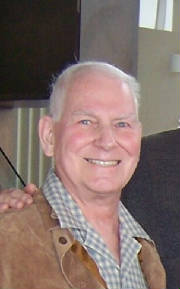 In later years - still smiling!
Before we wander through the pages of time, respects must be paid to the squadron member who spent long years building this web site. His name was Claude Montour - he was a pilot, a family man, and a good friend who left us too soon. In August, 2007, at the age of 74, he "put out his hand, and touched the face of God". Although the site may change with time's passing, it will always be his. Merci, Claude!
Our site is crowded with interest. Canadian history; details of the beloved CF-100 and those who flew in her. Memories of times long past - some sad, as we mourn the passing of old comrades; some happy, as we meet again at reunions. Documented histories of fierce struggles - mostly on the golf course!
Rebuilding the site as you see it now was a labour of love - but labour nevertheless - carried out by ex-lynxes who deserve a mention here: Bob Gillet and Dave Lennox. Thanks are also due to Roland "Trom" Tremblay, for a wealth of photos from his private collection, and for help in IDing unfamiliar faces!
Below you'll find a list of specific links to the events and people of the times.
Click on the underlined Description or the shortcut in the "link" bar under the page title.