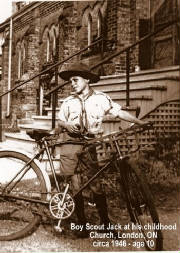 He was born 22 May 1936 in London, Ontario as Kenneth Jack Haycock, but to his compatriots on 416 he was always just plain "Jake". It suited him: a down-to-earth, cheery, easygoing guy, liking and liked by everyone – sort of a shorter Jimmy Stewart. He also became as skilled a pilot as the actor who played Lindbergh.
After a post-graduation year working for CNR, Jake looked skywards and joined the RCAF in April 1954 – by age 19 he had his wings. From there it was FTS at Moosejaw and Gimli, then several tours as a Flight Instructor. It took him through some interesting and challenging years to make it, but in October 1959 Jake joined the rest of us at St Hubert – he became a Lynx!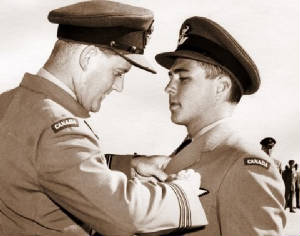 Jake receives his wings - age 19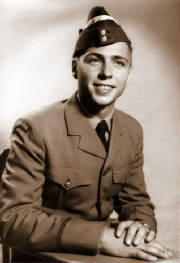 Jake as an 18 year-old trainee aircrew
With a great number of us, Jake's time on 416 was cut short by the fools who mismanaged Canada's military during the Cold War, but he remained in the RCAF until early 1966, then started a second career with Air Canada.
And through all these years, he managed to pursue a third career - or was it more of a passion? - the pursuit of a small white ball until it disappeared down a small hole. One of his proudest moments came when he won the 2009 Punchbowl Open trophy.
June 1st, 1996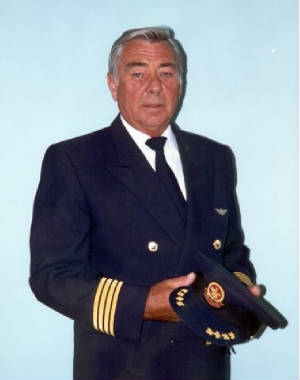 Jake retires from Air Canada
For friends who'd like to read the full story of a remarkable life, including more RCAF exploits, a complete biography, kindly contributed to the site by Sharleine, can be found here.